The following essay is dedicated to Kenneth Tynan,
in whose memory The Staten Island Art Review is obliged to form whole sentences. (May 4, 2022)
☆ ☆ ☆ Dimes Square Belongs to Us ☆ ☆ ☆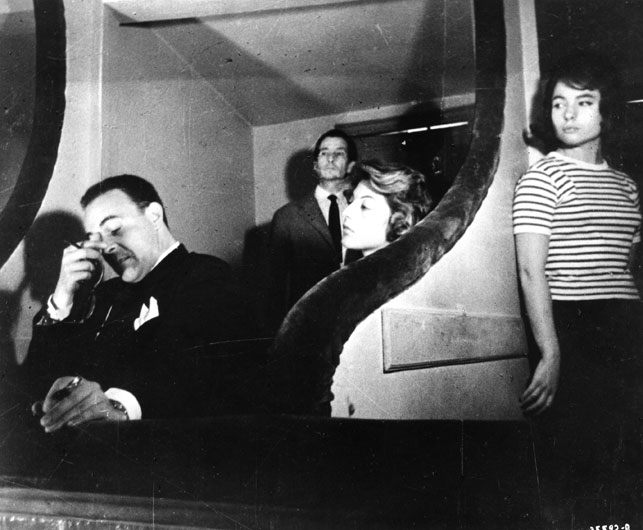 In 1961, the French director Jacques Rivette released his debut feature, a tense, lugubrious portrait of a city beleaguered. Paris Belongs to Us wanders among a set of young Europeans as they drift between the shadows of events beyond their making: colonial crisis, Francoist Spain, promises of nuclear catastrophe, unrelenting human anguish. The listless dilettantes and refugee hustlers do not enunciate these overhanging concerns but instead sublimate them in sexual entanglements and artistic exploits through a staging of Shakespeare's Pericles. When a suicide disturbs the fragile quiet they contrive in private quarters, Rivette's subjects broach the passing with a reserve that makes The Big Chill seem like Dixie cornbread. This emotional impenetrability intrigues a nosy malcontent who believes further dangers are lurking. Yet probing the airborne paranoia, all she discovers is that everyone is edging—towards death, deception, any cogent expression of collective and respective alienation.
Far from Rivette's taut drama, Matthew Gasda's 2022 Dimes Square is a chatty comedy, but at essence, it is engaged with many of the same dismal themes. Paris Belongs to Us depicts the bohemian solemnity of 1950s France as unspoken distress abrades its weary fringes. Similarly, Gasda considers a 'paralysis of the will' plaguing survivors of 2010s New York by leaving the cause of their 'bacterial' malaise ambiguous, though interested parties might repair to his speculative journal. In the august tradition of an arriviste's social caricature—see Stendhal in Italy, Thackeray's Paris Sketchbook—Dimes Square presents a bemusing and self-amused epigone of an epigone if not Bidenist than Biden-savvy, for an "age of restoration" in the image of the July Monarchy. Gasda's work is even, like Rivette's Paris, complete with its own Terry, though here Francine Prévost's icy femme fatale is a pesky concoction of brilliant, neurotic, handsy or is he Emerging Filmmaker, incarnated by Christian Stevenson in the production we attended.
Appropriating the Greene St apartment of Moving Kings author Joshua Cohen after an initial stint in Brooklyn, the roving Dimes Square troupe makes ample use of its host's eclectic décor and mammoth bookshelf to shape the shrapnel of blithe conversation on which the play hinges. The diplopic focus of their discourse is art and sex, Rivette's petite bourgeois dependables here drolly sidetracked by such digitally-prompted pathologies as body dysmorphia, bicuriosity, and watered-down Catholic æsthetics. Gasda's snappy dialogue and adroit casting (with dramaturge Danielle Carr) have won him Cassavetes and Ibsen comparisons. But more crucial to the attention the work has commanded is its charge on location. The downtown intersection which its title denotes will be baldly familiar to partisans of internet and "intellectual" Manhattan as a site for disdain, reverence or, to more seasoned palates, tolerant diversion. Gasda has mounted theatrical vignettes of urban life for some years; it is Dimes Square that has now earned him notice as an easy-to-swallow capsule of neighborhood proceedings nourishing a seemingly insatiable appetite for its documentation.
The play tracks interactions over a few festive evenings between the highbrow-adjacents who orbit Stefan (Max McDonald), a posh writer as well as Terry's nemesis. Not much happens, no one really does anything—at least in this regard, faithful to its source material. And as that existence often provides, its characters are each of a diagrammable kind. Boyishly obtuse and frequently whinging, Terry is a voluntarily celibate—yes, one of those—to sustain his creative vigor and perseverate on a cheating ex-girlfriend. Pop star Nate (Jordan Lester), with whom the play opens, is a hash of old news, his cancellation backstory as a depoliticized Ariel Pink less outright provocation than grounds for typological inclusion. As it was for Dorothy or Nick Calloway, the immortal draw of bright lights, big city prevents Nate's morose geriatric millennial from returning to dreary Midwestern comforts. Fame tired, he is half-dating rude girl Iris (Agnes Enkhtamir), a Manhattan native herself a one-woman show so wryly insecure as to effectuate her and Nate's mutual humiliation and enjoy it for them both. In one of Dimes Square's canniest contemporary signals, Enkhtamir's Iris is a Yale-trained formalisation of the vocal fried drawl, Vegas origins, and Asian ideations of actress Dasha Nekrasova, whose podcast has, since 2018, lent the area broad virtual renown. [1]
Cousin to Stefan, Fernanda Amis' Olivia brings a British piquancy to her dissection of the stock New York inquiry 'what do you do' otherwise straight from the collected Woody Allen. Some demanding combination of heiress, fashion assistant, and Instagram maven, for Liv, as for Nate, a notion of "home" remains elusive while integration is immediate. A cosmopolitan upbringing has rendered Liv opaque enough to casually embrace any milieu, including Dimes Square's human screens. Chief among them is Rosie (Cassidy O'Grady), a visual artist who bounces about with much tease, little bite as she revels, trying for throaty, in her own 'see-through tricks' and the 'stories we tell ourselves' like a wilting Fanny Brice. With the "I'm baby" ennui of Nadjas reared on Dora the Explorer, Rosie and Iris, less so Liv, hurl darts at the mediocrity pact that their clique of would-be just acquaintances has, in loneliness and horniness, made—so they say—for only this brief minute.
The women's oblique demonstrations of contempt spiral out, calling for more structure. Just as in classical fairy tales, ogres serve as organizing anchors, here this role is taken up with merriment by LRB critic Christian Lorentzen, endearingly gruesome. The ubiquitous Lorentzen commences his acting career as token Gen-Xer, 9-11 novelist Dave, raconteur of "pre-Bloomberg" New York who with an ogler's gait and gravel-timbred repartee is compellingly torn between avuncular insight—'youth is an excuse for nothing'—and a welter of down-bad-or-put-me-down-ism. Such dire conditions are redoubled in Bob Laine's somehow more pathetic hanger-on Chris, handler of Dave's 'decaying estate' as a divorced literary agent from back when those existed, Gasda might say aloud were he not perhaps holding out for his own representation. Every community has its fractals, and Gasda's Dimes—surely mocking us to say the words, largely hetero and somewhat white—as the one Lorentzen swings his weight behind, is that of legacy media and the barnacles on its backside.
Actual VICE contributor Bijan Stephen's Klay spends his nights dodging pummels to his ego from elders and peers. As if being in a throuple were not bad enough, he must endure Dave's attempts at 'ambition via osmosis' in the Spartan register of amity through ritual bloodsport. This pageant of intergenerational acrimony common to X-Y dynamics (though seldom to X-Zs) has since found legs in real life, or rather, on Twitter, where, having panned the play's Greenpoint run, blogger Mike Crumplar's "Swagless Virginia" now faces the ire of carnivorous Brooklyn. (Reviewing Dimes Square is a task as spiritually hazardous as its object, laced with urbane delusion: "Are you an angel?" wonders Geoffrey Mak of a homeless subway passenger he encounters after the production in his own Spike appraisal). The persistent live action and online barb-trading between Lorentzen and reputed CIA progeny Crumplar—both, incidentally, well coffered by Substack—punches down, then across at Gasda, like matches thrown to solidify the standing of their participants. With such à clef displays of peak performance, who needs raw milk, Mak might have contemplated.
Well, Klay of the play still does; luckless in work as well as love, he is reduced to target practice for boss baby Stefan. Though buoyed by a dislocated aristocrat's entitlement, Stefan is no moral English gentleman, treating guests at his "loft" to a feline approach of backhanded compliments and smiling jabs, followed by covert romantic conquest. His second book's streaming service optioning is the envy of his cohort, all of whom are too gluttonous—the phrase "in this economy" hovers wistfully—to balk at success in terms so corporate, subservient, and for Stefan, unsatisfying. Stefan seeks assurance of his own artistic achievement on par with Terry's reputed masterpiece; when that appears elusive, he devises other, rakish means of upstaging his frenemy. He dangles a palm out for his pert Tisch student sweetheart (Helena Dryer's boho Olive Parker) and sleeps with Bora (Eunji Lim), Terry's collaborator cum emotional support DoP, a foreigner who says she feels nothing for anyone yet leaves one gathering in tears.
☆ ☆ ☆
The play's exchanges are entertaining and loosely persuasive—the glaring anomaly being the candor their characters exhibit in relation to artistic initiative. If Gasda has correctly surmised the self-sentience at stake in the Dimes Square imaginary, he also overshoots, in his reconstructive enthusiasm, the degree of passion and discernment that the neighborhood nurses. In a setting with "the highest concentration of beautiful and cool people in the world at the moment" an inclination to speak of Serious Stuff is far more fraught than Gasda conceives for us in his players' glib ruminations. The gradations of quality that hound the male duelers, in particular, might be internally trenchant for some, but publicly, are moot, when, as the most desperate of the crew identify, surface-level "linking and building" supersedes any last inclinations towards substance.
First rate or third rate, whether bosom pals or, as Rosie might quip, besties for sheer convenience—few progenitors of this "place" would dare to conjure Terry's 'Mozart' or Stefan's 'Salieri.' The meek know an auteur's glory is not worth his burdens (tech has better perks); the determined—that the safest path to prestige is to be neutral in opinion and lavish with tongue. Those who might think this has always, to an extent, been the dominant system would do well to juxtapose any cultural press release with its critical photonegative, calculate the differences, and repeat the exercise with their corollaries two decades prior. In a context where even navel-gazing is restricted to low talk between intimates, like lawyers, anodyne commendations of each other's output are mandated in perpetual round robins of "E for effort." Aspiration to deeper cultural debate is, more often than not, arrested at mere glances over one's shoulder. Moreover, artmaking as a process is rarely discussed so openly, to say nothing of the abrogation of caliber as a criterion for its circulation. An overwhelming lassitude begets analytical leniency. Dimes Square's Baudelarian muppets might be lazy, but they are still full of fervor, however scathing. In Gasda's work, an atmosphere of cynicism and competition is underpinned by sincere cerebral drive; in the case of its inspiration, hyperactive ebullience and polite consensus mask a paucity of rigor or patience for nuance.
One comes to wonder whether such delicate imbalances between Dimes Squares italicized and not reveal a stenographer's remedial interventions or just an outsider's too-keen anticipations. To argue for the former, why should art not be more vivid, more encouraging than life—without it, we are bereft of alternatives. As the play and its problems jointly caution, solipsism is eternal, it is the invention it is supposed to yield that has corroded. Channeling Dimes' constitutional myopia as a culture industry "substrate", Gasda describes the entropic interval that gave rise to it as 'the worst time in human history,' and its occupants as among New York's 'worst people.' His semi stand-in Terry is meant to navigate this miasma with 'sigma male' impunity, his capacity for vulnerability as well as vision a salvo in the ancient mode of mumblecore or master of irony Whit Stillman. Yet with Terry's awkward upending towards the play's conclusion, the innuendo that quakes beneath Dimes Square connotes not a fantasia of resident masculine (let alone feminine) authority, as bound up in artistic merit, but a spoof on its recession. Just as Celine and Julie scale Montmartre on roller skates, might Dave and Chris soon slide and grind across Grand St to go save the East River waterfront?
To apprehend where any composite Dimes Square might be heading, we should establish what exactly it designates. If "The LES," "Chinatown," or "Two Bridges" have separate implications, a climate by this coinage (of disputed provenance) is unmistakably saturated with a militia of slack-armed coder hypebeasts, Dumb to Death day traders, and threadbare studio managers who on summer afternoons peacock round Seward Park as if still waiting to be streetcast—the sturdiest of the lot being Ivan their bartender. [2] For those lads, ladies, and parents not yet priced out by WFH hedge-funders, the play's beloved cocaine de chez nous—perhaps a hat-tip to 2021 Tribeca—is as much of a diurnal imperative as Adderall XR, empirically speaking, far more lethal to the twentysomething libido. Echoing Rivette's Paris, a specter of fatality gently feathers these environs, and not only with fentanyl. In a Warholian bow to a bygone grit, a spontaneous Dimes Square jest about an 'active shooter' pop-up found instantiation this April when, as the ever-watchful waitress Meetka Otto reported, subway sniper Frank James selected the piazza's eponymous haunt as a penultimate stop before turning himself in. Life and art are back on the same hook!
Whose "downtown," which spots, what palette of drugs and likelihood of a murder or a hookup—such tiresome queries universal to metropolitan experience would be immaterial fodder for weeding out heavy sniffers if they did not permit Gasda's play to leverage the cache of name recognition as it presents a picture slightly, even purposefully, askew of accurate. Gasda's Dimes is, like anyone's, a hodgepodge of the version he is privy to. Commuting from East Flatbush, he draws a hypothetical highway between BAM, Bard College, and 169 Bar; cheap date mainstay Kiki's and the accursed Metrograph cinema—since overtaken in fanfare by the Roxy, and for some crowds, Flower Shop. He pays no tribute to a nexus by day awash in stylized girlbossery: Café Forgot, Sandy Liang, Reena Spaulings—to cover a block or so on foot. The livery of Emilys Bode or Dawn Long on shopkeepers, journos, mixologists. Somewhere south of Houston, Nekrasova and Madeline Quinn are leasing desk space; somewhere nearby, Simone Films has its own facsimiles in development.
This play about place is most invested in "Dimes-as-a-feeling," the impact of which is spasmodically compromised when the cast resorts to manners only quasi spectators would think operative or necessary. Dubbing what exists between the group a 'scene' to be 'let into' is, for example, so stilted and Mean Girls-style an assertion, quick to falter against the cardinal rule of gatekeeping: that its levers must not be illuminated. [3] According to protocol, those who practice do without saying so. While we can understand the expository logic and exaggerated humor of nods to 'only connect' exclusivity and the people who use each other for it, such verbiage blunts an audience's sense of credulity and immersion. Yet Gasda might not be entirely mistaken to indulge in airing silent mechanisms, given how often Dimes Square's physical discretion is violated accidentally-on-purpose across planes IRL and virtual. The complicity he confesses in Dimes' catch-all for excess amidst burnout may be individually inscrutable, but that is less salient to his work's plausible legacy than its tethering of diagnosis to circumstances that are not just self-reflexive, but ephemeral.
Whatever iteration one might roam—that of nocturne thoroughfares or network "lore"—the Square's temporality, the latency of an expiration either organic or forced, is evident in an autopoietic ambience of codes being devised and undone right before us. Committed to record since the Zhe Zhe days, or whenever Lena Dunham's Oberlin Aura took "bookings" for Clandestino, to lay claim to this territory would be more impressive if its grounds were not already so dehydrated (before, of course, the coming torrents). [4] Its peremptory periodization online, over the airwaves, in print, and on television, has made "Dimes time" seem linear and cumulative when in fact it is durational and perforated, full of loopholes through which newcomers slip into cognizance. This little plot of nothing at several cross-sections of ethnic displacement shifted, during a 2020 lacuna, from popular association with the imperious originals (Beverly Nguyen, Laila Gohar, Maryam Nassir Zadeh) and e-flux maxxers on whom Nekrasova and Red Scare co-host Anna Khachiyan, in their ascendance, caustically meditated to the brash tactics of frenzied collegiates who would struggle to steer the scrutiny to which they, too, were suddenly elevated. [5]
Gasda landed in the aporia, looked around, and bet on an early bird special. The test of his three hour thespian snapshot, now or a decade out, is how it handles vernacular texture. As we were recently taught in a lachrymose guide to 'reading the Internet' (just downstream from the dreaded Vox Explainer), digitally secreted, socially corroborated peculiarities of speech and era, such as those that pepper Gasda's work and its extended frame of reference, chafe against the conventions of exegesis by which the playwright must abide like any good chronicler. Live translation in, and of, an intractably online epoch revives ye old quarrels over "medium specificity," that modernist relic. As if silk can be spun from polyester, Gasda derives the contours of the real from information relayed in the synthetic. So onerous is the duty of keeping up with Dimes' appearances, occasions of inexactitude, reinterpretation, and personal flourish (the group's curious penchant for Fernet, Gasda's choice libation) come to function as signposts of cultural fungibility and ongoing diffusion. Even the mistranslations that might mar neighborhood NY Times write-ups—like petting zoos for Upper West Siders—have a sympathetic charm, for who now craves Zolaesque precision with the inbuilt simultaneity afforded by TikTok.
No matter that venues seized upon in bloom are recorded as they droop—it is these alone that would tap a well of fond remembrance if Dimes Square someday warrants a revisit. Underlying every citable soundbite, every local absurdity (less the eight dollar juice than the smile it comes with) is an awareness of what it is not, betraying, in the absence of proportion, of measures to curtail indulgence, a fundamental regard for them. Gasda cottons on to this intricate position—at the periphery of total freedom, an abstract yearning for "adult" supervision—in his reliance on an iconography of aging metropolitan values. Apart from Lorentzen's symbolic presence, there is the much remarked-on coup of an Amis recruitment, as a homage to the prevailing rush of Money and a pale mnemonic for distinguished downtown daughters past, present, and almost impossibly, future. In actuality, the glint of New York pedigree refracts with the glare of migratory jeune arbiters, such as those led, in nicknames only, by Michelle 'Gutes' Guterman of Menlo, CA and Claire Banse of Boston, who, like Gasda, have come to the city to make something of their foibles.
It is to Gutes' Happy Hour girl friday & co. that the playwright sent Dimes Square's script, reassuring them of its pure poetic independence when word of the production, in rehearsals since last fall, wafted to their perches earlier this year. Ten years her senior, Gasda would only meet Gutes in March (at the Airbnb funhouse notoriously leased by the late Trevor Bazile); he ran an excerpt of his work not in the brunettes' broadside that once made unlikely Protagonists of city corners, denizens, and foodstuffs, but more "Literature"-minded Forever Magazine, whose pocket bible LA blondes—self-appointed to the altar of Tyrant—were then as new to the region as some in Gasda's entourage. Together fomenting a cyclically requisite rift, they have, in but a few months, averted attention long waning from Canal St towards Dimes Square's frisky recapitulation. Play, players, and their champions are now nearing a state where, in Gasda's words, their humble "shadow" is becoming "the real thing." But as a shadow of a shadow, it may yet dissolve into penumbral ether.
To assimilate a cesspool's Rabelaisian tendencies as content but also form is to maintain, rather haplessly, that the sole route out of mire is through it. However specious a claim, Dimes Square does encourage us to check it in its subtleties of verisimilar equivocation. To be the bane of banality, to numb to forget benumbing is to run a hand along the corrugations of truth without touching it. In this way closing in on its subject, Gasda's play constitutes a respectable gesture, especially if "gesture" need not advance any principle but its originator's dexterity in legwork. At the very least, we cannot fault neither the playwright nor his cast with the carelessness, cowardice, or even (time will tell) general inconsequence one is inured to expect of these endeavors—this being among Gasda's very topics. As for the larger orientation of his study, anyone is invited to change course. "Now more than ever," and certainly for worse, Dimes Square belongs to all of us.
---
[1] In a neat hyperstitional symmetry, Nekrasova was set to star in Minotaur, Gasda's next work, until demands on her schedule proved too prohibitive.
[2] As for the plaza's female darlings (plus canine appendages), we can spare their indexing here, being so readily accessible to synaptic scanning on Instagram or latest favorite BeReal.
[3] Critics, of course, are exempt from this restriction . . . 🤡
[4] A pervasive DS polarity of wet (brained) and dry (Lenten sober) is beyond our purview here, perchance explication will come elsewhere.
[5] (True power, however, always in the grace of landlord-babysitters).